Cuboid, applies Variable Temperature Control system with firmware V3.0 and 150W output, having Temp-SS316 and customized TCR available now.
It is powered by two replaceable 18650 cells with the new slip-open cover.
Multiple colors, 0.96-inch OLED screen and the new dual-battery bar display make it more practical and attractive catering to your preference.
Upgradeable firmware enables it always up-to-date. Now you can upgrade your Cuboid to 200W via VT Software.
Standard Configuration:
1 * Cuboid (no cell)
1 * USB Cable
1 * Manual
1 * Warranty Card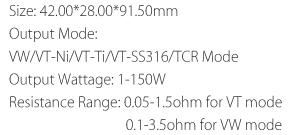 150W Output and Dual Battery Bar
Cuboid uses two replaceable batteries with the new dual battery bar.
The maximum output can be reached to 150W, making it powerful and convenient.
We kindly recommend high-rate 18650 cells with rated discharge current≥25A.
Cuboid comes with the upgradeable firmware.
Having Version 3.00 for Cuboid, Temp-SS316 and TCR are available now.

Newly added SMART Mode in Version 3.01 and 3.11